Caroline Anderson Art – Créative Art Psychotherapist, Welcome to my website… Here is a little bit about myself.
When I was seventeen I had the opportunity to study painting and the history of art in Paris. It was in the Paris studio that I was introduced to gouache – it remained my chosen medium for years.
Upon returning to Kent I went to Hastings College of Art where the two year foundation course was followed.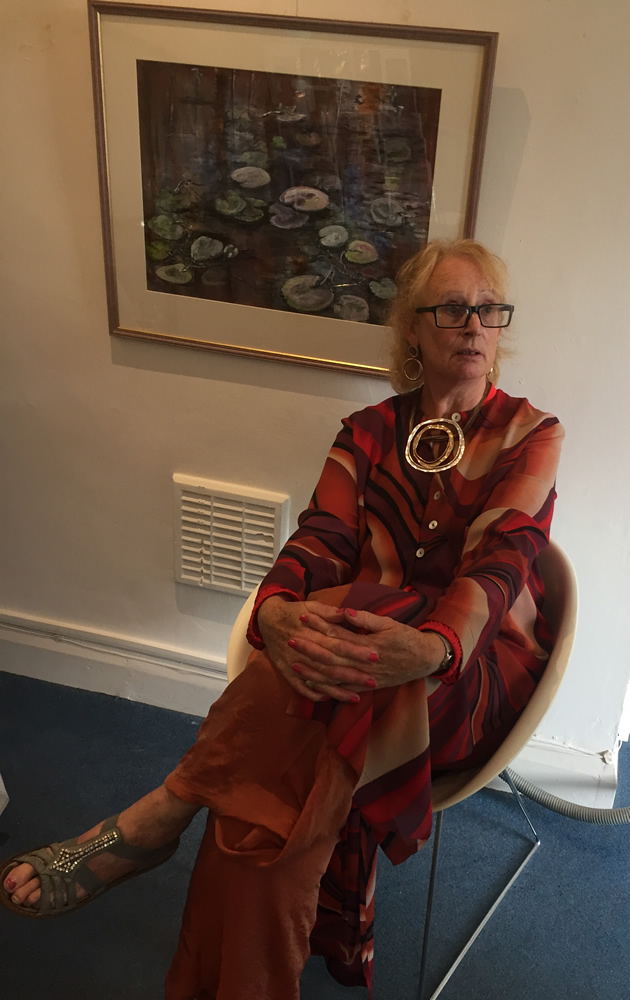 At the end of the year I went to live in Sark in the Channel Islands driving a horse and carriage and painting. Fortunately the Dame of Sark  was generous enough to allow me to paint in her grounds and introduced me to some of her acquaintances. So several years were spent driving and painting for a living on this beautiful island.
After Sark I went to Sir John Cass College for four years to study drawing, silversmithing and enamelling. I soon realised that a living could not be made by painting alone and so the decision was made to follow a commercial subject. I was awarded the city and guilds medal with distinction for enamelling. I then worked as a designer in Hatton Garden till I married and we had our first child.
Whilst the children were small I studied part time at West Kent College for my Certificate in Education and this enabled me to teach jewellery, silversmithing and enamelling.  For fifteen years several schools and adult education colleges employed me and I continued painting, selling in my spare time.
My growing interest in the relationship between art and psychology developed and several degrees latter I qualified as a creative arts psychotherapist specialising in Post Traumatic Stress Disorder. For the last twenty three years my professional time has been divided between working as a therapist and painting. However, three years ago the paintings in gouache were mixed with water colour and to date remain so.
Five years ago I became a member of the Weald Of Kent Art Society and recently joined the South East Open Studio scheme.  I am also a member of the Royal Academy and study life drawing classes once a month there.
---
Exhibitions 2023
November 1st-29th – Jim & Tonic restaurant and distillery,133 High Street, Stratford, London
Exhibitions 2024
January 7th-21st – Artifact Gallery New York
6 – 8th July – Leeds Elite
Horsebridge Whitstable Tbc
Exhibitions 2025
25-27 April PAF Los Angeles
Elite London Tbc
Artefacts New York
Membership
Royal Academy of Art
Pure Arts Society
Hastings Arts Forum
Weald of Kent Art Society
Paintings £100 – £350. Cards from original paintings £1.75 – £2.50